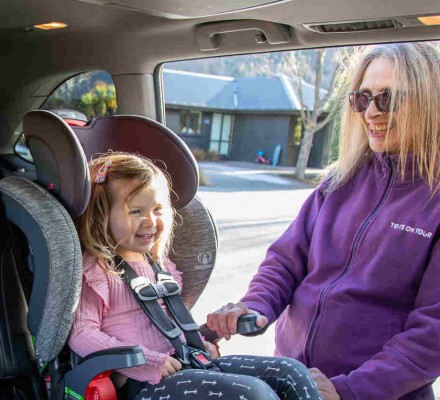 Choosing the Safest Car Seat for your Child
With so many child car seats on the market—all making claims on safety, comfort, and looks—choosing the safest option can be a confusing task.
Planning on hiring a car seat while you're on holiday? How do you know the car seat you get is right for your child? While holidays are often the time to relax, your child's safety is one thing you don't want to let slide.
Whether you go with a baby equipment rental service like Tots on Tour or rely on the car seat provided by a car rental company, there are a few key things you need to know to keep your child safe while out seeing the sights. In this article, we'll share our expertise on what you need to look for when buying or renting a child car seat.
Fit compatibility: Ensuring a secure and comfortable fit for your child in the car seat.
When choosing a car seat, it's vital to ensure your child correctly fits in the seat so that all of the safety features will work in the event of a crash. And a comfy child is a happy child, which always makes for a more peaceful journey. So how do you know if the car seat is the right fit? You need to consider your child's weight and height; and if your child is nearing the upper height limit of the seat, then the child's torso measurement will also be needed. General age ranges or vague categories may not guarantee a suitable car seat for your child. Look for a car seat provider with experience in selecting the appropriate seat based on the correct measurements and the comfort of your little one.
Rear or forward-facing car seat: Choosing the best protection for young passengers.
For children under two years of age, it is highly recommended to use a rear-facing car seat. This positioning offers better protection for their head, neck, and spine. In the event of an accident, the forces acting on the restraint and the child will push the child back into the child restraint shell so that the child's head and back are pressed against the back of the restraint. The child's head and neck will be cradled by the restraint shell, and it's less likely the child will suffer spinal damage. This is a compelling argument and why many parents choose to keep their children rear-facing beyond the age of two. However, not all rental car seats for infants are rear-facing. If you haven't been asked whether you require a rear-facing child restraint, don't assume you will get one. It's worth checking if your rental car seat offers the option of a rear-facing installation to maximise safety.
Harnessed seat or unharnessed booster: Choosing an age-appropriate car seat.
It's recommended that children remain in a harnessed car seat until they outgrow the seat's weight and height limits. Your child should not move to an unharnessed booster seat until they meet the manufacturer's minimum limits, their legs bend comfortably over the edge of the booster seat, and they have the maturity to stay seated for the whole trip. If you have to rent a car seat while on holiday, be clear about your preferences and request a harnessed car seat if necessary. Some car seat providers only stock harnessed car seats with low weight and height limits, which may not be suitable for bigger or older children.
Vehicle compatibility: Not all car seats fit all vehicles.
Not all car seats are compatible with every vehicle, so it's essential to ensure the car seat can be securely installed in your vehicle. If you have multiple children, you might need car seats that can fit three across or allow access to the third row of seats. Choose a car seat provider with expertise in choosing the correct seat for your vehicle and who can take care of safe car seat installation for you.
Appropriate accessories: Enhancing safety and convenience.
To ensure proper installation and safety, certain accessories may be required with your car seat. Check if your car seat comes with ISOFIX or latch connectors or if you need to use a locking clip and seat belt for installation. If using the car seat top tether, does it reach the anchor point, or do you need an extension tether? A car seat for an infant needs to be installed at 45 degrees to ensure the infant's head doesn't flop, potentially restricting the airway. You may need a rolled towel or pool noodle to recline the car seat to the appropriate angle. Don't assume these accessories will be provided, it pays to ask.
Choosing the safest and most suitable car seat.
The safety of your child greatly depends on selecting a car seat that suits their specific needs and is correctly installed. Not all car seat providers offer installation services, and those that do may not have a recognised qualification. Check with your car seat provider whether a trained Child Restraint Technician will be available to select and install the car seat and ensure it is set up correctly for your child. Will an instruction manual and appropriate accessories be provided? Can your car seat provider guarantee an appropriate car seat will be available?
By considering fit compatibility, rear or forward-facing options, harnessed seats versus boosters, vehicle compatibility, and appropriate accessories, you can make an informed decision that prioritises your child's safety on every journey.
With our baby equipment rentals tailored for holidaymakers and a team of qualified Child Restraint Technicians, we're here to ensure your child's safety so you can enjoy peace of mind during your Queenstown holiday.

Tots on Tour is Queenstown's leading name in premium baby equipment hire. Find out more about our Child Restraint Technicians and the Tots on Tour team here.