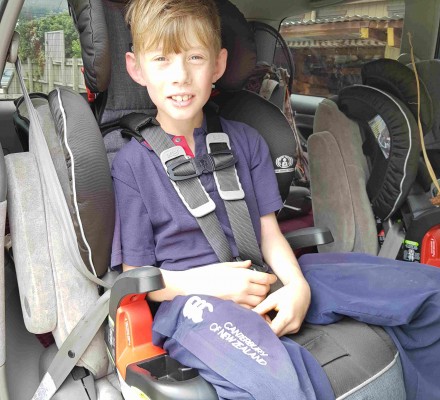 Car Rental Queenstown
Car Rental Queenstown
Should you hire a child restraint for your car rental Queenstown holiday? Or do you bring your own child's car seat with you? Damage to your restraint can happen in transit. Then there is the hassle of bringing such a bulky item along with all your other baby equipment. There is also the worry your car seat won't fit well into your car rental Queenstown vehicle.
If you do decide to bring your own car seat you may need to bring other accessories. For example if you are installing the car restraint rear facing with a top tether, you might need an extension tether. You might need an angle adjuster to achieve the correct 45 degree angle? Another consideration if your rental vehicle doesn't have Isofix is you may need a locking clip? If all this was not enough to put you off then consider if you know how to install the car restraint yourself?
If you decide not to bring your own restraint for your car rental Queenstown vehicle you may look to hire a car seat when you arrive?
Hire Car Restraint
You may decide the easiest option is to hire a restraint from your car rental company. If you take this option it's a good idea to make sure the rental company can supply the restraint you require. There are quite a few factors to consider for your car rental Queenstown holiday.
If you want a rear facing restraint you will need to let the hire car company know? Remember not all rental car companies supply rear facing car seats. If they can supply a rear facing seat it's a good idea to check if someone can help you install it. It's not easy to install a car restraint you are not familiar with. Installation instructions should be provided. The restraint manual will allow you to check the car seat is suitable for your child. With this in mind you should check your car rental Queenstown company has plenty of car seat options. The last thing you need is to arrive and discover your booked child restraint is not suitable and there are no alternative options.
Your car rental Queenstown company should ask the right questions?
The right questions asked means you are more likely to receive the correct restraint. In order to select the correct car seat the car rental Queenstown company should be asking your child's age, weight and height? Your child may be within the weight limits but too tall for the restraint. Or within the height limit and too heavy. Please remember this information is only a guideline for selecting the car seat. Children have different length torsos and car seats have harness slots at different heights. Your child's torso measurement needs to be provided. An installation manual must also be provided.
There are different standard certifications
There are different Standards of testing for car restraints. Australian/New Zealand Standard, American Standard and European Standard. In New Zealand you are able to use a restraint that is approved by any of these Standards. In Australia you can only use Australian Standard approved restraints. This can be a little confusing, especially if you are travelling from Australia and not know about American or European Standard seats.
You may not be familiar using chest clips which are on all American Standard seats. The position of the harness on your child will depend on which Standard restraint is being used. It may also depend on whether it's forward or rear facing? In Australia all seats have tethers and must be used at all times. American Standard seats usually only use the tether when the restraint is forward facing. Though some American Standard seats can use the Swedish tether method for rear facing. This involves attaching the tether to the track of the front seat. European Standard seats do not have a tether. There's a lot to figure out! You may not feel confident installing an unfamiliar restraint. It's a good idea to seek help from a Registered Child Restraint Technician.
Registered Child Restraint Technician
You will have peace of mind if you hire your child restraint from Tots on Tour. A Registered Child Restraint Technician will make sure you book the correct child restraint. You will be asked all the right questions at time of booking. Once we receive a booking we check to make sure we have all the information. If necessary we will come back to you for any missing measurements. If a booking is received a long time before your travel dates we make a diary note to contact you nearer the time. A child can grow a lot in a couple of months so it's important we have up to date information. If you have booked online we will make sure you have selected a restraint suitable for your child's age, weight, height and torso measurement. Or you can contact us to help you select the right car seat for your car rental Queenstown vehicle.
Once your booking has been confirmed you will receive a link with the installation manual relevant to the seat you have hired. We recommend you download and print the manual for future reference. Tots on Tour will then liaise with your car rental Queenstown company. Using your child's measurements we will correctly and securely install the child restraint prior to your arrival. We will collect it after your departure. It is strongly recommended you check the harness height by referring to the restraint manual. Please bear in mind the position of the harness on your child's shoulder may need to be at, on or below. This depends on the restraint Standard and whether it's forward or rear facing. The harness position may be different to what you are familiar with for your own car seat. If in doubt contact Tots on Tour. Your child's safety is our utmost concern and we're here to help.