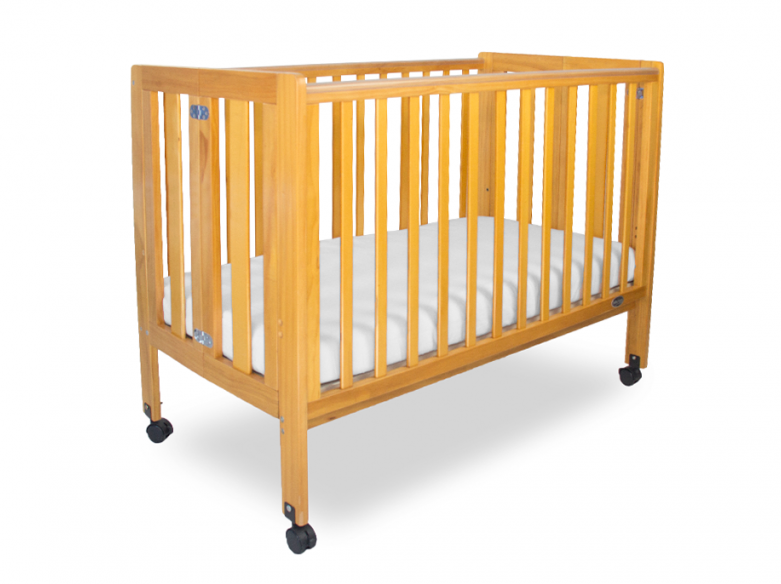 Fold N Go Wooden Cot
Call or email for bookings within 2 days
Wooden Cot hire includes innersprung mattress, mattress protector, fitted sheet, sleeping bag & fleece blanket.
Features
Better for you and your baby as it is sustainable with real clear A grade NZ plantation timber
Opens and folds flat in seconds

Suitable for toddler up to 28 kg
Compact size so great for small spaces
Ergonomically designed to be better for your back, shoulders and hips with babyhood's famous smooth single hand internal dropside – so no more heavy bending
Safer for your baby with BPA free teething rails
Easy to manoeuvre around your nursery with 4x lockable heavy duty castors
Solid padded base for extra stability
Safer for you and baby than a portacot
Tested to Consumer Protection Notice No 4: 2008 – AS/NZS 2195:1999
Tested to Consumer Protection Notice No 6: 2005 – AS/NZS 2172:2003 and complies to AS/NZS 2172:2013 Childrens Household Cots
This cot is tested by the highly regarded NATA accredited testing facility AFRDI (Australian Furnishing Research and Development Institute) to ensure that the cot is safe and meets with the standard
Assembled Dimension: 130cm x 65cm x 108cm
Folded Dimension: 125cm x 96cm x19 cm
Customer Pick Up of Fold N Go Wooden Cot: When transporting the Fold N Go Wooden Cot you must use the purple fleece protective cover. Do not put anything heavy on top of the cot. Please book Delivery & Collection if you cannot load your vehicle without damaging the cot. You will be charged for dents and scratches. The minimum damage charge will be the equivalent to the Delivery & Collection charge and possibly more.
Delivery & Collection of Fold N Go Wooden Cot: Whenever possible we will position the cot in the bedroom requested. In some situations the cot will be left at the entrance of your accommodation. Your hire cot will be delivered by one delivery person. Where there are steps or staircase it might not be possible for our delivery person to lift the cot on their own. Occasionally you may need to collect the cot from our depot if there isn't a secure place for the cot to be left.
Moving the Fold N Go Wooden Cot: The Fold N Go Wooden cot is on lockable wheels and very easy to maneuver. You will need to fold the cot before moving through doorways or tight spaces. You will be charged for any damage incurred.
We do not supply the Fold N Go Wooden Cot at bassinet level. Customers must not change the cot to bassinet level. We recommend you hire the SnüzPod2 or Cariboo Folding Bassinet instead. Alternatively you can book a Portacot & request the complimentary bassinet level.