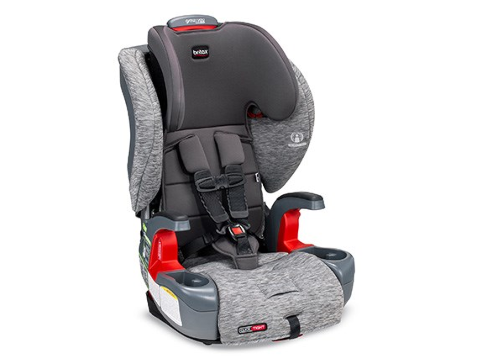 Britax - Grow With You ClickTight
Call or email for bookings within 2 days
Forward facing only with 5 point harness between 11 kg and 30 kg. Maximum heights in harness mode: from 86 cm to 125 cm. Maximum heights in booster mode: from 111 cm to 160 cm or when the top of the ears are below the top of the head restraint. Tether highly recommended.
Our Registered Child Restraint Technician can assist you to select the most appropriate seat for your child. Please email us for further information or phone 03 442 0409.
We can liaise with your Queenstown rental car hire company to deliver your hire car seat prior to your arrival and collect after your departure. Please note we only hire within the Queenstown area. You CANNOT return our hire products to locations (airports) outside of Queenstown. You are also welcome to collect and return to us at 3 Kawarau Place, Queenstown.
ALL PRODUCT FEATURES
SUPERIOR PROTECTION
2 layers of side protection formed by a deep foam-lined shell and quick-adjust head protection.
Impact-absorbing base compresses to reduce the rough force of a collision.
Impact-stabilizing steel frame offers superior strength where you need it most: at the connection point to the vehicle.
V-shaped tether minimizes seat rotation with a unique two-strap design.
Britax-patented staged-release stitches slow the seat's forward movement during a crash. 
Impact-absorbing harness pads slow your child's forward movement during a crash.
Compatible with SecureGuard Clip (sold separately) to keep proper seatbelt alignment over hips and prevent children from sliding under the seatbelt in booster mode.

 SAFEST AND SIMPLEST INSTALLATION
ClickTight Installation System makes safe installation as simple as buckling a seat belt.
Easy-on/off lower anchors for an alternative installation method.
 SMART DESIGN
Hassle-free transition from harness to booster mode by tucking away straps in the seat.
Easy-buckle system keeps buckles and straps out of your way when positioning your child.
Easy-remove cover pulls free of the car seat for cleaning without having to remove the harness.
Cup holders and storage for drinks, food and toys.
 MAXIMUM FIT AND COMFORT
No-rethread 9-position harness quickly adjusts with the push of a button as your child grows.
Quick-adjust 2-position buckle easily moves outward as your child gets bigger.
Multiple-position recline allows your child to relax in comfort.
Plush memory foam padding for premium comfort.