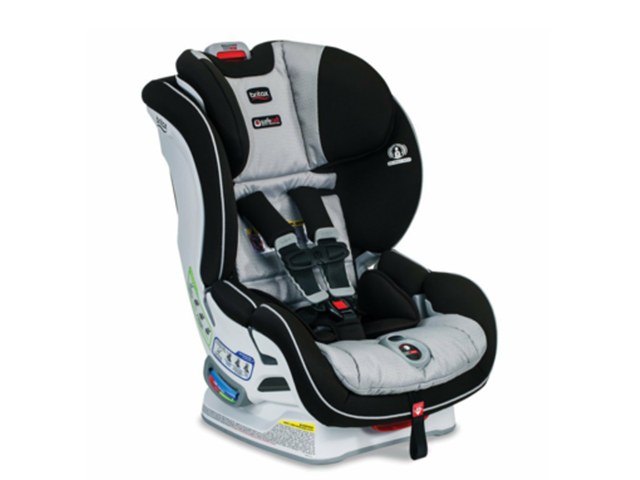 Britax - Boulevard ClickTight
Call or email for bookings within 2 days
Use only rear facing for infants weighing between 2.3 kg to 9.1 kg. Can be used rear facing up to 18 kg. Forward facing with 5 point harness between 9.1 kg and 29.4 kg. Maximum heights: Rear facing when the top of the child's head is at least 2.5 cm below the top of the head restraint and Front facing up to 124.5 cm or less in height and when the top of the ears are below the top of the head restraint. Tether highly recommended when forward facing.
Our Registered Child Restraint Technician can assist you to select the most appropriate seat for your child. Please email us for further information or phone 03 442 0409.
We can liaise with your Queenstown rental car hire company to deliver your hire car seat prior to your arrival and collect after your departure. Please note we only hire within the Queenstown area. You CANNOT return our hire products to locations (airports) outside of Queenstown. You are also welcome to collect and return to us at 3 Kawarau Place, Queenstown.
ALL PRODUCT FEATURES
SUPERIOR PROTECTION
2 layers of side protection formed by a deep foam-lined shell and quick-adjust head protection.
Impact-absorbing base compresses to reduce the rough force of a collision.
Impact-stabilizing steel frame offers superior strength where you need it most: at the connection point to the vehicle.
V-shaped tether minimizes seat rotation with a unique two-strap design.
Britax-patented staged-release stitches slow the seat's forward movement during a crash.
Impact-absorbing harness pads absorb energy and reduce your child's forward movement during an impact.
Proudly engineered, tested and made in the USA with global components for top safety and quality.
THE SAFEST AND EASIEST INSTALLATION
ClickTight Installation System makes safe installation as easy as buckling a seat belt.
7-position recline makes for easy angle adjustment.
Automatic level indicator lets you know the seat is angled correctly in your car.
MAXIMUM FIT AND COMFORT
No-rethread 14-position harness quickly adjusts with the push of a button as your child grows.
Quick-adjust 2-position buckle easily moves outward as your child gets bigger.
Removable body pillow adds comfort and can be removed when your child outgrows it.
Plush foam padding and fabrics for premium comfort.
SMART DESIGN
Click & Safe Snug Harness Indicator makes an audible sound when the harness is within range of proper tightness.
Easy-buckle system keeps buckles and straps out of your way when positioning your child.
Easy-remove cover pulls free of the car seat for cleaning without having to remove the harness.
Britax Boulevard ClickTight Instruction Manual
Amendment to Instruction Manual On Page 23: "Important: Adjust the harness to the shortened length if a snug harness cannot be achieved with a small infant (approx. 10 lbs and under)."